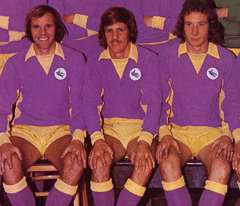 Cast your mind back to the balmy, carefree days of October when Dave Jones was telling the world that, at that stage, we were ahead of the points target he and his staff had set the team for this season – I wonder, did the City's think tank take into account our traditional November slump when setting this target? If they did, then it might well be that we are still on course to beat it because, let's face it, four points from five matches isn't that bad by our standards for this month.
I've admitted defeat in trying to fathom out why we are so crap in November and from now on am going to accept it as a matter of fact – while Dave Jones remains in charge of Cardiff City we will have a slump during the month of November and there's nothing that can be done about it. Anyway, I wonder if, this time around anyway, the November thing has been a bit of a red herring (and I say that as someone who has been more guilty than most of referring to it during our run of poor results)? This month's programme always looked a tough set of fixtures with four of our games being against sides with genuine promotion aspirations and our return of just one point from these fixtures cannot be put down solely to the month they happened to be played in.
Reaction to yesterday's 2-1 defeat at Queens Park Rangers on the messageboards has tended to fall into one of two categories. The first of these sees our team as being the most talented in the Championship who consistently fail on the big occasions – in short we are a bunch of bottlers. Now, speaking as someone who will believe to his dying day that we bottled it completely at the end of the 08/09 season, I can see in a way why people might think that. After all, I can remember Brian McDermott the Reading manager saying on Sky's Football League preview show at the end of October that anyone who finishes above Cardiff will go up automatically – the football world at large tends to see us as one of the two best sides in this league and so when we lose against rivals near the top of the table, it must be down to a lack of nerve mustn't it?
The second viewpoint is the usual we are crap one that appears every time we lose (or even draw) a match. The table shows that we are, obviously, not crap but, if it comes down to a choice between this option and the talented bottlers one I think I am beginning to side more with those who say we are not as good as every one seems to want to tell us we are.
Until 7 November I believed Dave Jones when he said there was more to come from this side – although City had just been doing enough to get the job done in many of their matches, some of the football played against the likes of Doncaster, Bristol City, Leeds and Norwich backed this up (mind you, even in these games there were spells where the opposition were dominant). However, I must admit that the Swansea match saw me lose a lot of faith in this team – forget about who it was against, the tactical and footballing ineptitude shown by our manager and players that day came as a real shock to me as it got me wondering if there was an element of the Emperor's New Clothes about us.
In saying that, speaking as someone who thought that defensively we were not a top six team last year, merely swapping Tom Heaton for David Marshall and Lee Naylor for Mark Kennedy was hardly going to lead to a dramatic improvement in that department – with Anthony Gerrard away at Hull this year and Adam Matthews not playing as well this time around, I would say there is a definite case to be made for saying that we are weaker at the back now than we were last season. To counteract this, we certainly have more depth in midfield and, although Peter Whittingham's move to central midfield has meant we have lost a fair bit of fire power, the arrival of Craig Bellamy and Jay Bothroyd's fine form makes us stronger up front.
However, just as was the case last season, having four or five of the best individuals in the league is not that much of an advantage if the "supporting cast" is of a level which is no better than average for the Championship. To illustrate what I mean, if you compare the back fives of the two teams yesterday player for player, I would pick the QPR one over ours in every case (especially since Kevin McNaughton has become more injury prone and inconsistent over the past eighteen months or so). To be fair to our defenders, I am comparing them with the Championship's best there, but the point is that I feel there are a fair few other back fives around who are better than ours – Hudson, Blake, Gyepes and co are all decent to good performers who will have occasional outstanding games at this level, but I don't see any of them as serious contenders for a Championship's best eleven selection and, surely, a top two side would have at least one goalkeeper and/or defender in the running for a place?
The same applies, to a lesser extent, in other areas of the team and here I am afraid questions need to be asked about some of Dave Jones' signings. I never saw Seyi Olofinjana as the midfield "enforcer" that he was built up to be – he enjoyed a very good start to his City career and was effective in stopping the opposition playing, but when two sets of supporters say the same thing about one of their ex players, you tend to think they might have a point and, at the moment anyway, Olofinjana is fading after a bright beginning just like Stoke and Hull fans thought he might.
As for Jason Koumas and Chris Riggott, we are fast reaching the stage where, for all the use they have been, we might as well have signed them in the January window. I would guess that the injury plagued Riggott is at least not costing us too much and, for me, Dave Jones' better summer signings have been the cheap ones like Heaton and Danny Drinkwater, but I think we are going to need more than bargain basement signings in January if we are going to be successful in what is something of a promotion or bust season.
It has been claimed that there will be millions available for new players in January if we can maintain a top two spot. Therefore, we need our big players to start being as influential as they were back in October and then we can, hopefully, start adding some solid virtues like defensive reliability and consistency to our team – that's boring I know, but we need top two (or, at least, top six) ability all over the pitch, not just at the top end of it.
Anyway, I suppose I had better say a few things about the game that was played yesterday and the funny thing is that, despite all of the largely negative stuff above, I didn't think we played too badly at all (certainly a lot better than the dross we served up against Swansea and Forest and during the second half at Scunthorpe anyway). Perhaps QPR were slightly more deserving of the win, but, overall, I thought a draw would have been a fair outcome and that is what we probably would have got if what was an obvious penalty had been given for that foul on Jay Bothroyd – as an aside, I see Neil Warnock was very complimentary towards the ref after the match, but I would have loved to have seen his reaction if Mr Friend had ruled in our favour (as Warnock accepted he could well have done) and then still turned down what looked a very good shout for a penalty for his side right at the death!
I believe that a lot of the after match criticism from supporters was as much to do with what has been happening in the previous three weeks as it was about us being so poor yesterday – if that game had been played in isolation, I daresay most of the after match discussion would have been about how we were robbed by the officials. If we keep on playing like that, we are good enough to keep a promotion challenge going because we do have more quality than recent results would indicate, but, I happen to believe that the quality is more thinly spread than it should be for a promotion side. I think money needs to be spent in January for that situation to change and, if he is given that financial backing to go with what he was provided with to bring in Bellamy, Olofinjana, Keogh, Koumas and Naylor (that doesn't look as impressive a list now as it did back in September does it), then Dave Jones can have no excuse – anything short of promotion will not be good enough and I would not expect him to be here come June if we were preparing for the 2011/12 campaign as a Championship team.
by The other Bob Wilson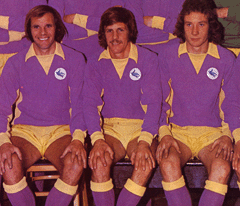 Expectation is a funny thing and, in football terms at least, I would say that it is something to be avoided at all costs. At the start of both of our seasons in what is now known as League One early in the previous decade, I expected us to go up. The Sam Hammam publicity machine and a level of transfer spending unheard of at Cardiff City before ensured that, despite my best efforts to think otherwise, nothing but promotion would do.
Thousands of City fans were of the same opinion as well and when you consider that there were only two sides outside of the Premiership (both of whom were benefiting from parachute payments after recent relegations) with bigger wage bills than us, then you begin to see why people felt like they did. Alan Cork's side 0f 2001/02 struggled to cope with that expectation but his replacement by Lennie Lawrence in February 2002 saw us go through the rest of the regular season unbeaten to finish fourth in the table and qualify for the Play Offs as very much the in form team of the four who would be fighting for that last promotion spot.
Once again, expectation levels went through the roof as City won at Stoke 2-1 in the first leg of their Semi Final and the Second Leg would, surely, now be a formality – I certainly thought that way anyway. I daresay many supporters would go for last May's Play Off Final defeat as their most disappointing day following Cardiff, but I can honestly say that I have twice been more upset after seeing us lose than I was against Blackpool – the first time was against SV Hamburg in the Semi Final of the European Cup Winners Cup in 1968 and the second was against Stoke in 2002. Whereas I could see the Blackpool defeat coming beforehand because they were in better form than us going into the game, naivety of  youth in 1968 and faith in the inevitability of Sam Hammam's "dream" being fulfilled in 2002 meant that I did not contemplate defeat and this only meant that, when it came, it was that much harder to take.
Despite the lesson I should have learned after the Stoke experience, a few more new signings in the summer of 2002 had me believing that we were on our way to being "bigger than Barcelona" again when things got back under way in August. However, after a good start which had seen us top the table on a few occasions in the first couple of months of the season, the 02/03 side proved to be as erratic as their predecessors had been under the previous manager and this time there was no great finish to the campaign to take into the Play Offs as we just scraped in by finishing sixth with just two points, and one goal, to show from our final five matches.
Going back to that word expectations, our poor form and a Semi Final against Bristol City (who we never beat in those days) meant that they were at a very low level this time around as far as I was concerned. That didn't change much either even after we showed tremendous defensive resolve to edge out the wurzels 1-0 on aggregate thanks to Peter Thorne's header at Ninian Park in the first game, because, only a month or so earlier, Play off Final opponents QPR had become one of four teams to beat us at home over the second half of the season and with sixteen wins and five draws in their previous twenty four matches, they had the momentum that we lacked.
Not even the fact that the Final was in, many respects, a home match because it was being played in the Millennium Stadium offered much of a source of comfort because Rangers had only lost once on their travels since December and, although I was determined to enjoy the big day, my feelings were similar to the ones I had for the Blackpool match because I just saw our opponents as being the in form team out of the two going into the game.
With hindsight, what I was not paying enough heed to was that we had, arguably, our best player coming back into form after missing most of the season through injury – Danny Gabbidon was fit and able to play a full part while our opponents were missing theirs as Richard Langley was suspended after a sending off in the First Leg of their Semi Final at Oldham (I know Langley was a disappointment during his spell here, but he was regarded by many as League One's best attacking midfield player at the time).
In Langley's absence, QPR looked to lack that someone who could do something out of the ordinary in attacking areas and their side was, perhaps, over reliant on power and size. This was the impression I got watching a first half which we edged without being able to show this in the scoreline – I say that mind, but, looking back seven and a half years, it's hard to remember many close misses at all by either side and I honestly cannot recall anything we did in that first half in terms of a goal threat to back up my opinion that we were the better team.
If that first period was, indeed, ours, then the second one was certainly QPR's as they enjoyed their best spell of the whole two hours – I can recall veteran Kevin Gallen going very close with a shot which seemed to have Neil Alexander beaten and then, in the dying minutes, the otherwise impressive Spencer Prior messed up a header back to our keeper and sub Andy Thompson's header lobbed just over the unguarded goal.
City had not threatened QPR's goal once in the second half and if those ninety minutes had been played at Loftus Road or Ninian Park in a league game in front of 10,000 people, they would have been instantly forgettable, but when you throw in all of that unbearable tension and the prize at stake, then normal criteria did not apply.
At least extra time saw an improvement in entertainment as City began to take a grip on proceedings – Prior's header which drew a fine save from Ranger's keeper Chris Day was as close as either side came before substitute Andy Campbell (bravely brought on by Lennie Lawrence in the second half of normal time to replace the anonymous Rober Earnshaw) took his place in Cardiff City history with a penalty shoot out looming just six minutes away.
What action there had been up to then had come at the opposite end of the ground where the QPR fans were gathered, but I had a brilliant view of Campbell's burst on to Gareth Whalley's fine through pass and his delicate lob looked to be going in from the moment it left his foot. In saying that though, it took a hell of a long time to hit the back of the net and signal bedlam amongst the supporters congregated behind and to the sides of the goal. That was it, Howard Webb could have blown his final whistle there and then – although the remaining minutes were played out with many fans in a state of panic, I reckon both teams knew there was no way back for QPR and that City had just edged a game played between two very evenly matched teams who had, virtually, cancelled each other out on the day.
It's easy now to look back on that day and think something like "if we knew then what we know now" – after all Sam Hammam was out on the pitch talking of the £10 million plus which would be made available to Lennie Lawrence for new players and yet less than two years later we were going through the trauma of Black Friday. However, I recall the atmosphere in Canton when I went out that night as the whole city seemed to want to celebrate what had happened a few hours earlier and I can't help but think that night was the closest I will come to experiencing what VE night must have felt like – in so many ways, it was the best day I have had supporting the club, I just wish the songs they had played after the game when the players were celebrating with us hadn't been so naff!
25 May 2003
Cardiff City 1 Queens Park Rangers 0 (after extra time)
City Alexander; Weston (Croft), Prior, Gabbidon, Barker; Legg (Bonner), Kavanagh, Whalley, Boland; Earnshaw (Campbell 1), Thorne; subs (not used) Margetson, Bowen
QPR Day; Kelly, Shittu, Carlisle, Padula (Williams); Gallen, Palmer, Bircham, McLeod; Furlong, Pacquette (Thompson); subs (not used) Culkin, Forbes, Angell
HT 0-0 FT 0-0
Att. 66,096
by The other Bob Wilson