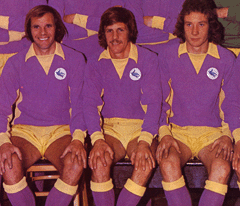 I watched England's defeat yesterday thinking what I normally do when they bow out of major tournaments and this led me to think that I would be putting together a 20.000 word thesis on here about what is wrong with the British game (it's not just England's problem). I thought that, with Lampard's "goal" to give them the perfect excuse to ignore what I have thought has been obvious for eight years or more, the pundits would be up in arms at the injustice of it all, but, fair play, the consensus has been that England were stuffed and that "the goal that wasn't" was just a side issue.
Therefore, this isn't going to be the mega long post that I thought it would be because much of what I was going to say is being said elsewhere by people from within the game. For example, Harry Redknapp talked of Germany playing modern football, Graham Taylor said that he didn't think a team playing 4-4-2 would ever win a World Cup again and David Pleat spoke of England playing football in straight lines as the sterile, dated and completely predictable formation they used was picked apart by opponents who were light years ahead of them in terms of wit and imagination.
However, all of the those I have mentioned seemed to still be of the opinion that England had the players to be a real force in the world game – I'm still wondering why they, and all the others who trot this out, actually believe that. Most of the players in that team yesterday have formed their reputation playing in a league where the standard of defending is of average quality and so all the goals scored in recent seasons in the Premiership by the likes of Rooney, Lampard and Gerrard become devalued somewhat and, apart from the first named in 2004, none of those three named (and no other England player in the last twenty years or so) have been stand out performers in major international tournaments. The likes of Ashley Cole, Ferdinand, Beckham and Scholes have been influential at times, but the quality that we are constantly told about isn't there when you judge the players by the high standards needed to win World and European international competitions.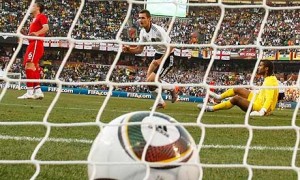 Chris Waddle might have made a right mess of managing Burnley a few years back, but I found myself wishing there were more around who thought like him when I heard him speaking about how the British get football coaching wrong virtually from the moment a kid starts playing the game. With eleven a side matches for eight and nine year olds (often watched by parents who treat the whole thing as if their son or daughter is playing in a World Cup Final) played on full size pitches, it is those who kick the ball furthest and those with the speed to get to those punts downfield first who prosper as the British game's infatuation with pace and power takes a grip right from the start.
Now pace and power can be very important weapons in the modern game, but too often, some British players with pace don't have the intelligence to best utilise it while others lack the technique to deliver what they are attempting – as long as they stay fit, kids with real pace at eight or nine don't lose it in their teenage years, so they should be given the chance to enjoy improving their skills and footballing know how by playing in matches in which those with talent prosper and not just the sprinters. It's a bit different for "powerful" youngsters because often the advantage their physique gave them in junior football disappears as those in their age group grow quicker than them or, if they maintain their physical advantage, then their sheer size becomes a hindrance which can make them look clumsy and uncoordinated, but, once again, the advantages of concentrating on developing the football skills of such kids for about six or seven years from the age of, say, nine seems obvious to me.
Unfortunately, the infatuation with "power" continues at senior levels in the British game though and by then this more often than not means spirited but limited, musclebound, scufflers rather than true footballers with the physical strength needed to succeed. The best International teams are full of the latter but England had a few of the former in their side yesterday – British managers tell us that they would love to have such scrappers alongside them in the trenches in a war, but why do they keep on insisting on using them against the likes of Ozil and Muller on a football pitch!
by The other Bob Wilson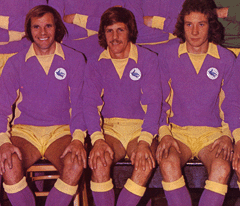 If anything, it's getting quieter on the transfer front for Cardiff City as the time when contracts end gets closer. Nearly every summer we get people saying that the transfer market will liven up once we go into July and players contracts run out, but, although there is still the odd story about concerning players leaving us (e.g. Forest are going to bid for Peter Whittingham and Burnley are considering coming back in with another bid for him), there is nothing regarding new players or those whose City contracts will run out next summer.
There was a story in the Echo during the week in which Steve Borley denied that we were trying to sign veteran striker Steve Howard from Leicester, but that's about it I'm afraid and it is becoming harder to avoid the suspicion that we are in the familiar position of having to sell before we can buy. On that score, it is perhaps surprising that the Joe Ledley situation has not been resolved one way or another yet. I still expect him to be playing for another club next season, but with his City contract due to run out on Wednesday, I suppose a situation could arise whereby he comes back to pre season training with us on July 1 without having signed a new deal with any club. In such circumstances, my understanding is that Ledley would be on a month by month contract with City and  he could leave at any time (the club could also of course take the barking mad step of releasing him!) but my guess is that it would having him here on that basis would leave us hamstrung when it came to recruiting new players.
I may be wrong, but I can't see us signing anyone apart, perhaps, from the sort of free transfer we have seen like Tom Heaton until the position with Ledley is resolved and, if he goes to Celtic or one of the clubs on the European mainland who are, reportedly, tracking him then it may be that freebies and loan signings are all we will get this summer – if he goes to a Premiership club, then with Dave Jones having, apparently, been promised all of any money received from player sales this summer, we could expect to see some meaningful transfer action before any tribunal fee is decided (although this would, in all likelihood, mean that we couldn't go after all of the targets we might have until the exact figure we would get for Ledley became known).
Much of what I have said above is pure guesswork, but it would, surely, be best for the City if Joe Ledley decided his future one way or another sooner rather than later – I'd still love him to stay with with us, but, if his heart is set on leaving, then, for the City's sake, let's hope he decides on his new club before 1 July.
by The other Bob Wilson