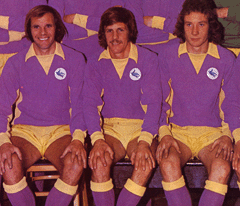 I daresay there were stacks (too many) in and around Cardiff last night who heard the wind howling and then looked out of their windows to see the rain sheeting down who thought that the 20,000 people from their area who were at the Cardiff City Stadium must be mad. Doubtless they then settled down to watch United (the media seem to have dropped the word "Manchester" from the Old Trafford club's name lately!) take on Bayern Munich in that tournament where teams which finish fourth in their domestic league can end being called Champions of Europe and barely gave the side playing just down the road a second thought. Well let me tell them that I wouldn't swap places with them for anything – watching your LOCAL team put on a performance like last night's while getting soaked to the skin beats hands down anything that Rooney and co can serve up while I'm sat in front of the telly thank you very much.
I have said once or twice on here that, when you consider the size of the club involved, you can make a good case for saying that Cardiff City have been the biggest under achievers in the Football League over the past forty odd years and one great win isn't going to make me change my mind on that. City fans of a certain age have had decades of crap to put up with as towns and cities with a fraction of our catchment area have all enjoyed the sort of success in terms of league position which has been denied to us, but one thing about supporting a team like City is that you learn to really enjoy the good days when they come around and it is hard to think of too many league matches in recent years which have engendered the feelgood factor which last night's did.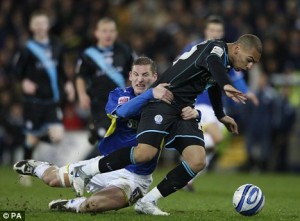 I watched much of the last twenty minutes of last night's match convinced that Leicester were going to score at least once. Nigel Pearson's decision to bring on the old warhorse Steve Howard at half time was a predictable one given the lack of aerial power in the City team and Howard often got the better of the one player in our side who had the height and heading ability to potentially deal with him before Gabor Gyepes' sending off left us with a back four consisting of an eighteen year old at right back, two full backs filing in as makeshift centre halves and a wide midfield player hardly noted for his defensive skills at left back. In front of them there was a right winger who couldn't run and a lone striker who saw so little of the ball that he had probably forget what he was supposed to do with when it eventually arrived and yet, despite all of Leicester possession, pressure and aerial advantage, we won!
I am sure that last night's game will be talked about for years to come and, when it is, I am equally sure that the conversation will centre almost entirely on the way we held out with such a depleted side for those last twenty minutes, but that will be a shame because I can envisage that the fine first half display that gave us the lead which we defended so heroically will be forgotten. We were certainly two goals better than Leicester in the first forty five minutes and we could and should have scored more – although he started the game well and made an impact with his pace and running, Kelvin Etuhu's performance for the last half hour he was on the pitch showed that he isn't a natural target man.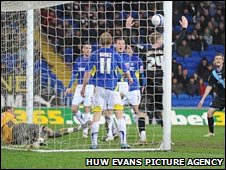 Leicester will now doubt claim that they should only have gone in at the break one goal down and both managers agreed that Martyn Waghorn's corner had probably crossed the goal line before the ball was clawed out by a desperate David Marshall. That was my opinion, albeit  from over one hundred yards away, I certainly expected a goal to be given and was surprised and relieved when it wasn't. However, all both managers and I could have had was a feeling that it was a goal because of the far from perfect view we had of the incident – much the same applies to the gentlemen of the press many of whom have trouble telling one player from another (for example, I have read that it was King or Hobbs that cleared Ross McCormack's first half header off the line) and yet the Daily Mail tells us that "Jones's side cash in on linesman's mistake" and that "Martyn Waghorn's inswinging corner was misjudged by keeper David Marshall and crossed the line, but the linesman didn't give it.". The Western Mail goes further and says "While the hosts didn't need any help from the officials, they were the benefactors of a scandalous decision by linesman Andrew Laver in injury time. Waghorn's curling corner beat everyone and clearly crossed the line but, with Marshall clawing the ball out, the referee's assistant inexplicably refused to give the goal".
Now, I have recorded Sky Sports News' pictures of the game and watched the incident over and over again and I would like to know how the two hacks concerned were so convinced it was a goal from their view fifty or more yards away. The pictures do not show that the ball "clearly" crossed the line (the Sky presenters, correctly, called them "inconclusive") and so it's hard to see what makes it such a "scandalous" decision. I'll say again that my feeling is that it may well have been a goal, but I haven't seen anything that confirms this impression and, based on the evidence currently available, the journos are talking rubbish.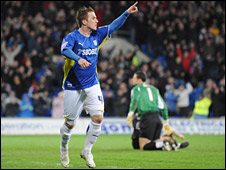 Anyway, back to the football and, although it's not really right to select individuals from such a fine team performance, I am going to mention three who I have been critical of at various times. Only this weekend I expressed disappointment at Ross McCormack's performances this season, but last night he looked like the player who made such an impact in 08/09 – it was great to see him score the sort of "striker's goal" which he doesn't get enough of, but it was his cleverness and appreciation of those around him which impressed me most with his ball out to Chris Burke which led to the headed chance missed by Kelvin Etuhu just before the break being a particular highlight. Secondly, Steve McPhail again showed that he has become a very influential player for us this season after a couple of years of poor performances by his standards – we have taken thirty six out of a possible forty eight points in the games he has played in this season and, although his history in the fixture might make it debatable whether we get it, we will need more of his calm authority on Saturday.
As for my City man of the match Paul Quinn my problem with him has not been so much about his performances – although he has had his poor games, I think there is potential there to build on and I feel he has more ability on the ball than he is given credit for, but, all along, I have questioned why we bought him when we have so many full backs already. Well Quinn went some way towards answering that question last night – after being given a difficult time by Dany N'Guessan in the FA Cup tie in January, he had the winger in his pocket this time until he moved inside to accommodate Adam Matthews (what a run that was by the way!) and looked a natural at centreback as he managed to win more than his fair share of headers. Invariably, it was Quinn who was the City defender who got that vital block on a shot or cross as you began to see why Dave Jones believes he is someone who can make an impact at this level.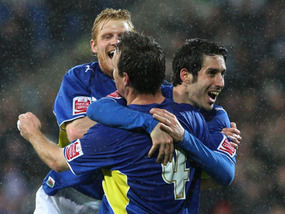 Before finishing, there are two other things I'd like to mention. Firstly, a few words about our opponents. I realise that this might sound patronising given the way the matches went, but it's not meant to be – for the second time in a few months Leicester left the Cardiff City Stadium feeling hard done by after losing a cracking game of football, but, based on what I have seen of them both in the flesh and on TV this season, they deserve to be in the Play Offs.
Secondly, it wouldn't have been such a special night if it hadn't have been for the contribution of those 20,000 who decided that watching United wasn't for them. I often think that the effect a crowd can have on a game is exaggerated, but I just can't help believing that the outcome might have been different without the outstanding support the team got in those last twenty minutes – surely the old chestnut about Cardiff City Stadium lacking atmosphere can be put to bed for ever now?
by The other Bob Wilson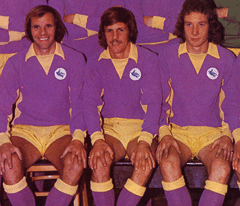 Although there had been signs of problems earlier in the year with things like "Whalleygate" and the lack of big money signings in the January transfer window when the team were handily placed for a Play Off challenge, I think the time when the penny dropped for most supporters that we were skint was in the autumn of 2004. Once Sam Hammam had taken over in the summer of 2000, the early years of the decade had seen City largely buying whoever they wanted as they blew their rivals in the lower divisions out of the water with transfer and wages spending which they could only dream of. Promotion to the Championship had seen the "spend, spend, spend" policy continue as Alan Lee and Richard Langley arrived for big money and I would guess that the wages paid to free transfer signings like John Robinson and Tony Vidmar probably put them beyond the reach of many of City's new rivals in the game's second tier.
We were paying millions for players, but the notion that we might have to sell our "crown jewels" like Robert Earnshaw and Danny Gabbidon was derided by Sam Hammam as teams rumoured to be making a bid for either of them were dismissed as being our "feeder clubs". Then, just before August Bank Holiday Monday, it all changed as, completely out of the blue, one of those "feeder clubs" had a bid accepted for Earnie and, within a day or so of the story breaking, he had signed for West Brom. For a while, Sam Hammam tried to brazen things out – there were reports that three Albion players would be signing for us as part of the deal and he faced angry supporters at a hurriedly arranged meeting shortly after the transfer was completed, but, despite all of the assurances, the team's results were showing that things were far from well at Ninian Park.
August and September 2004 were awful months – after taking four points from their first two matches, City picked up only four more from a possible twenty seven as they slid to twenty third in the table with the Earnshaw money largely unspent. True, Jobi McAnuff did arrive from West Ham for less than ten per cent of what we got for Earnie, but as defeat followed defeat, there was almost a feeling of Nero fiddling while Rome burned about the lack of transfer action to try and put things right. Of course, what supporters didn't know at the time was that the club's bankers had pulled the plug on the club's madcap spending – Citibank had said no when we went to them for yet more money and, seemingly, the only people prepared to lend the club money was some overeas company called Langston who came up with £24 million pounds worth of loan notes.

Perhaps it was the Langston money which finally enabled manager Lennie Lawrence to get some players in as experienced full back Darren Williams and young midfield player Gary O'Neil arrived on loan from Sunderland and Portsmouth respectively and, if the results still wouldn't quite come, then the level of performance showed immediate improvement. Williams' provided some much needed solidity, but it was the energetic and skilful O'Neil who was mainly responsible for the side beginning to turn things around as he complimented Graham Kavanagh perfectly to give us what was a potentially excellent Championship central midfield.
O'Neil was ball winner, playmaker and box to box man all rolled into one and remains one of the best central midfield players I have seen play for the club – with youngsters Joe Ledley and Cameron Jerome also breaking into the team and the exciting, if unpredictable, McAnuff starting to settle, City games started to become enjoyable again. Although there were too many draws for the team to pull clear of the relegation strugglers, an unbeaten October certainly helped things along as the feeling grew that City were on the up again.
The final match of October against Leicester offered more evidence that a more than useful City team was taking shape. Leicester, with their nucleus of older players with plenty of Premiership experience, had been many people's pre season favourites for the title following their relegation from the Premiership, but, like City, they had been drawing too many matches and found themselves in a mid table position going into the game. This was nowhere near good enough for the powers that be at Leicester and manager Mickey Adams had lost his job a few weeks earlier as they moved to bring in current Scotland manager Craig Levein to succeed him. Levein was in the stands to watch the game before formally taking over from the following Monday and what he saw that afternoon must have left him in no doubt as to the size of the job awaiting him.

Whereas Leicester's experience had looked a strength in August before a ball was kicked, it looked a weakness now as several of their veterans had made the transition from canny, seasoned pros to washed out liabilities in the physically demanding Championship. Leicester's cause was not helped by the clever, but largely static target man Peter Thorne being ruled out by injury so that winger Paul Parry was  pressed into service as a central striker and Parry played a full part as the movement and energy of the younger City team ensured that it was a very uncomfortable ninety minutes for many of the more venerable Leicester players – one of whom, centreback Matt Elliott, was playing the last game of his career that afternoon.
O'Neil had already hit the post when Parry let fly with low, raking shot from twenty five yards which thudded off the upright with the visitor's keeper Kevin Pressman well beaten, however the 36 year old who was, to put it mildly, a little over his ideal fighting weight, was the one veteran in the Leicester side who was able to roll back the years in this match and he reacted superbly to block Alan Lee's effort from the rebound. Lee, who was City's top scorer at the time with five goals, was going through something of a hot streak in front of goal (by the standards of his time with us at least!), but he was to make nothing of the chances that came to him that afternoon as Leicester somehow kept their goal intact.
With the visitors also looking threatening at times, the game provided plenty of action at both ends but that elusive first goal just would not come – the second half saw more of the same as Pressman made an outstanding save from Kav's twenty five yard effort and came to the visitor's rescue on other occasions as chances came and went at regular intervals. There was time for O'Neil to hit the woodwork again from a free kick, but the game finished scoreless – although the standing ovation the team received at the end of the match proved that this was anything but your bog standard boring 0-0 draw.
Despite all the encouraging signs though, it was a sixth goalless game in the last seven at Ninian Park for City and, having seen his side hit the woodwork four times and miss a penalty in another stalemate with Leeds four weeks earlier, Lennie Lawrence, predictably, stated that somebody was going to take a right hammering at our hands soon. As it turned out, our manager was proved right four days later as West Ham returned to London having been well and truly stuffed by 4-1 as Lee, Ledley (with his first ever goal), Parry and McAnuff ended the goal drought with a vengeance.
All the while, there had been some talk of Portsmouth manager Harry Redknapp being willing to let Gary O'Neil come here permanently if we could stump up the £750,000 he was asking for him. There was a time when the club which had spent almost as much on the likes of David Hughes and Gavin Gordon and more than that on Andy Campbell in the previous three years would have fired off a cheque for that amount with barely a second thought, but those days had gone now and so a player who could have become the fulcrum of the team for years slipped away (truth be told though that, by the time he went back to Portsmouth in early November, O'Neil was playing well enough to go straight into their first team and stay there) as supporters had to get used to the new reality which would see overdue wages only being paid after the captain was sold to Wigan just four months later.
30 October 2004
Cardiff City 0 Leicester City 0
City Warner; Williams, Collins, Gabbidon, Barker; McAnuff, Kavanagh, O'Neil, Ledley; Lee (Jerome), Parry (Bullock); Subs (not used) Alexander, Weston, Boland
Leicester; Pressman, Makin, Elliott, Heath, Stewart; Scowcroft, Nalis, Gemmill (Stearman), Tiatto (Gillespie); Dublin (Blake), Connolly; Subs (not used) Gudjonsson, Benjamin
Att. 13,759
by The other Bob Wilson