You can read below my thoughts on the City Under 18s v MK Dons match I watched yesterday lunchtime in which our youngsters somehow escaped with a 1-1 draw courtesy of a freak equaliser scored by Nat Jarvis – as it turned out, that was to be the highlight of my footballing day!
From there, it was home to listen to City stumble to a miserable 3-0 defeat against a Preston team that spent nearly half of the match with ten players and then, to cap it all, Welsh football's finest young prospect suffers a horrific and career threatening injury while playing for Arsenal at Stoke.
I'll return to the subject of Aaron Ramsey later, but to events at Deepdale first. It's more or less a year since City were thrashed 4-0 at the Emirates Stadium by Arsenal in a Fourth Round FA Cup replay and I have this theory that since that night, our side has completely changed it's character. Until that defeat, the City team of 2008/09  (and much of the previous season as well) had been hard working and competitive – they had a decent goalscoring record, but this was through scoring once or twice in nearly every game so the fact that they weren't thrashing anybody didn't count against them, but most of all, they were very hard to beat.
Prior to that loss against Arsenal, City had only lost one match in their previous sixty seven in all competitions by a margin of more than one goal (and even that was an end of season 3-0 loss at Wolves which had nothing riding on it from our point of view), but since then we have lost twelve out of fifty six games by that margin with seven of them being by three or more goals. Now, that cannot be merely a coincidence and, in part, I think it can be traced back to the fact that we have too many players in the team for whom the boring parts of the game, such as tracking back and going with midfield runners from the opposition, do not come naturally. Therefore, those who are reluctant defenders become even less inclined to do so when the team goes a couple of goals down and and so scoring opportunities come along more frequently for the opposition.
In some respects, I believe that we have become less of a team in the true sense of the word and more a bunch of individuals. The fact that some of these individuals are very gifted for the level they are playing in is sometimes reflected in lots of goals being scored in a game on days when these gifted, but temperamental, individuals click but the downside comes with the way heads drop when things are going against them.
In saying that, it needs to remembered that the team achieved a great set of results in January when they were in the midst of an injury and illness crisis which saw them reduced to the bare bones, so I am more reluctant to use the "bottlers" criticism of them than I have done in the past. However, there has been no light at the end of the tunnel as far as squad size is concerned and I believe that it was inevitable that results would start to suffer once we we found ourselves in a situation where we, realistically, have only about fifteen players available for first team selection (we might have a full quota of seven substitutes, but all the evidence suggests that Dave Jones never has any intention of using two or three of them).
Mention of our manager also brings to mind, his role in our downturn in results. I'll admit to being pretty sympathetic to his constant referals to our small squad, but I do wonder if some in our dressing room are beginning to think that they have a ready made excuse for under par performances and so this makes them even less inclined to go that extra yard that the team currently need?
However, when all is said and done, nothing will change me from my view that the main reason why we are increasingly looking like failing to reach the top six target that our Chairman set us earlier in the season is because of the bungling in the Boardroom regarding our finances. On that score, I think it once again shows amazing naivety for Peter Ridsdale to enter the dressing room after yesterday's match because "he was unhappy at the manner of the performance and went into the dressing room to tell Jones in no uncertain terms." – in view of our Chairman's "guarantee" of new players in January, the term let him who is without sin cast the first stone springs to mind!
As for Aaron Ramsey's awful injury, you can only hope that he makes a full and complete recovery (I would say that his age and the steely determination which has as much to do with him being such an outstanding prospect as his God given talents, should see him in good stead on that score), but it is a shattering blow to the, already slim, chance that Wales had of qualifying for the final stages of Euro 2012.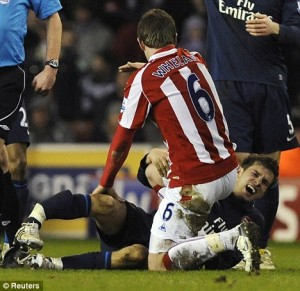 It is somehow typical of Welsh football that the best in a crop of talented youngsters that offered hope that the fifty four year wait for qualification for a major tournament just might be coming to an end should be struck down in this way – yes it has plenty of faults, but Welsh football has precious little luck as well.
When you consider what has happened to our national team over the past fifty years or so and then you see what Cardiff City fans have had to put up with down the years, it's hard to think of a set of supporters who have had less to cheer in the past half century than those of us who support both their national and regional teams. Going back to that regional team to finish, when you see those in charge refusing to speak to newspapers because they had the effrontery to print the truth and books being cleared from the club shop because the author has dared to criticise the Chairman then it really brings home how small minded and petty the club we support can be – those of us who have been supporting club and country since the sixties have put an awful lot in, but have got so little back in return during that time.
by The other Bob Wilson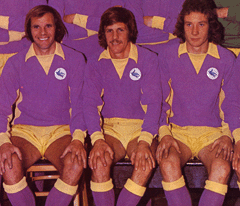 The City Under 18s team met MK Dons this lunchtime at Leckwith and I am afraid that they turned in what can only be described as a very poor performance in a scrappy game which saw them being second best for long periods to the team which prop up the table in our group. To be fair to the team and the Academy staff, you have to remember that three players qualified to play today were unavailable because they have done well enough to be considered for the first team. Adam Matthews, Aaron Wildig and Jon Meades (who was presumably in the party that traveled to Preston)  could all have been playing today and so the poor fare on offer didn't really present a fair picture as to how the Academy structure is working at the club this season.
Having got that out of the way though, it has to be said that the standard was not good today and, if there had been any justice MK Dons would have ended up winning by a couple of goals. They were slightly the better side in a drab first half which saw Reece Ottley make a couple of good saves while Luke Cummings shot just over the bar and Ibby Farah forced a fine stop by the visiting keeper as he beat out the midfield player's shot after he had broken into the penalty area. However, MK Dons took the lead about ten minutes before the break when their number 10 (who was the best player on the pitch for me) turned James Last before firing a shot across Ottley and into the net from about twelve yards out.
Despite still looking the better team, the visitors seemed content to sit on their lead for the third quarter of the game. In truth, City never really looked like breaking them down by doing anything constructive, but it did seem to be an over cautious policy from the Dons and they paid for it with about twenty minutes left when Farah ,whose forceful forward runs were behind the few threatening moves City put together, fed Nat Jarvis about fifteen yards out – Jarvis turned well, but was unable to get a shot in as he was tightly marked by a visiting defender whose attempted clearance hit the City striker and flew into the top corner of the net for a goal he knew little about.
As it was, the equaliser spurred the Dons on to come out of their shells and City were hanging on when the otherwise impressive Ottley made a mess of a routine free kick and Alex Evans had to clear off the line and Farah then had to do the same thing from the resulting corner. Ottley was called on to make some more decent saves and a header from the visiting skipper flew just over the top with the keeper beaten and, with City offering nothing going forward in response, it became a matter of whether they could hang on for an ill deserved draw. This they managed to do without too many alarms in the closing minutes, but it was it was a performance from a group that have played well so often this season which mirrored the general downbeat mood there is around the club these days.
by The other Bob Wilson