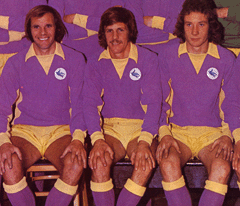 Before going any further, it needs to be said that if a team are doing the business out on the pitch, then what is happening in the Boardroom tends to get forgotten, but poor results get supporters looking for reasons why things are going wrong and it's then that those in the Boardroom come under scrutiny – I wouldn't mind at all therefore if this is the only contribution I make in this category over the next nine months!
Although there were many who would feel that the new stadium was always going to get built once Sam Hammam left the club, I think it is right to say that Peter Ridsdale could point to the Cardiff City Stadium and the new training facilities and ask whether either would have come to fruition if it hadn't been for him. Again, there would almost certainly be plenty of City fans who answer that question with a resounding yes, but I say that it a reasonable question to ask at least.
Truth is, my own view is that maybe they wouldn't have. There is no way of proving this, but I reckon that more delays could have seen the whole Leckwith scheme fail for no other reason than people would not have wanted to embark on such an expensive project in the economic conditions that have prevailed over the last year.
However, even if I am right in thinking that we owe Peter Ridsdale an awful lot when it comes to the new stadium, this is certainly not a time for him, or the rest of the board, to rest on their laurels because there are challenges aplenty for them over the coming nine months.
Even the new stadium presents potential problems in that it can no longer be presented as the thing that is going to change our financial fortunes in the next two or three years. The ground is here now and, after years of having Messrs Ridsdale, Hammam and others high up at the club saying "you just wait until the new ground is up and running" there are going to be many who will see us saying, yet again, that we have to sell before we can buy and, quite reasonably, think so what has changed from this time last year or the year before that?
It's also worth remembering that the judge at the court case brought by Langston against the club last year gave the two parties a "cooling off period" up to 31 December 2009 to resolve their differences. Over the past year or so there have been quite a few instances where our Chairman has talked in the media about negotiations going on regarding a restructuring of our debt but, on the face of it, the situation does not appear to have changed one iota since March of last year when the ruling went against Langston's request for summary judgement.
Peter Ridsdale is currently in Malaysia reportedly trying to conclude a shirt and ground sponsorship deal with a local businessman (see link) and you have to hope that something comes of this because, without some sort of progress towards reducing what Langston is owed within the next four months, you have to wonder how they are going to react in the new year if they still haven't received anything from the club.
Being realistic, I suppose more time should be given to either prove or disprove the theory that a new ground will transform our financial fortunes. However, I can't help thinking that, without a significant cash injection from somewhere or a complete takeover of the club, there is no way that the Langston debt is going to be repaid in full by 2016 unless we get promoted before then and our transfer activity in 2009 rather suggests that those in the Boardroom think similarly. How else can you explain us pushing the boat out last January (by our standards anyway!) by committing ourselves to pay a club record fee for Michael Chopra, bringing in Chris Burke, who is certainly not on peanuts, and Quincy whose loan deal would have involved us paying a signing fee and a contribution to his wages. Similarly, despite the claims by many that we haven't spent enough this summer, only 2001 would be a possible rival to this year for the one in which we have spent most on transfer fees in our history.
So I think there are grounds for saying that Ridsdale and co have had a real go at getting us promoted this year – significantly, in all of the analysis of what went wrong in those last four games in 2008/09, I cannot ever remember seeing anyone say that we missed out because of a lack of financial support from the Boardroom.
So, when you also bear in mind that there have been a few occasions recently when the board have listened to and acted upon supporter's grievances, I think it is fair to say that they have been doing a decent job in the last year.
However, there is one other thing to bear in mind. So much is made nowadays of how much success on the pitch equates to the size of a club's wage bill for their players, but, shouldn't that also apply to some extent to how much a club is paying their executives and board members?
When details of Peter Ridsdale's £500,000 bonus for work he had done in the financial year 2006/07 first broke last summer, reference was made to a piece that had appeared in the media about how our Chairman's wage even before that bonus was nearly double that of anyone doing a comparable job at a Championship club. Now, with Peter Ridsdale not being paid as much in 2007/08, maybe that situation has changed and others now get more than him? Nevertheless, I think it would be fair to assume that they would be very few in number. Therefore, if we are amongst the biggest payers of executives and board members in our league, haven't supporters got a right to expect the best, or very close to it anyway, from those picking up the wages?
On that score, surely 2009/10 has to be the time that we see some tangible reward for what our "Mr Fixit" Keith Harris is taking out of the club? You never know, we might not get that promotion that we need by 2016 and, although that might still seem a long way off yet, time is running out for the club to come up with a coherent and worthwhile Plan B.
*Originally published on 7 August 2009.