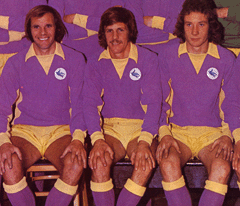 Try to cast your mind back two years to the start of the 2007/08 campaign and think how you would have reacted if somebody had told you that City would reach the FA Cup Final at the end of that season and 2008/09 would see the best league finish in 38 years for the club. If you were then told that Dave Jones was still City manager but was going into the 2009/10 season with online polls showing that a significant minority (around 30/40% in some cases) of supporters wanted him out, how would you react?
I daresay that any supporter of another Championship team that gets to read the paragraph above would think that sections of the Cardiff support are barking mad for shouting for the head of a manager with a recent CV as impressive as that. I wouldn't be surprised at all though if they might have a different opinion if they were as close to the action as your average City fan is – the truth as I see it is that Dave Jones goes into the 2009/10 with his hold on the manager's job as tenuous as at any time since he was, allegedly, given two games to save his job by Peter Ridsdale in November 2007.
Let me say here and now that I am not one of those who thinks that Dave Jones should have gone during the summer (I believe he has earned the right to try and put right what went wrong in April and May), but, I can accept that those who do have some valid arguments.
Going back to that outsider from another club looking in on us, they would probably point to all the players we have sold in recent years and the amount we have spent on replacements and conclude that Dave Jones has got Cardiff challenging for promotion despite having to sell his best players while operating on a shoestring transfer budget himself. There was certainly a lot of truth to that in our manager's first two seasons with us, but, the situation has changed since then.
The latest accounts from the club open to public inspection are for the period 2007/08 (our Cup Final season) – they show that our wage bill for that year rose by around £3.7 million to £13.4 million. It is also worth having a look at this Guardian report from last December in which City Chairman Peter Ridsdale says that the club's average wage had almost doubled from £4k to £7k a week in the last three years – this appears to offer a heavy clue that the wage bill for 08/09 will not be significantly lower than the previous year and, on the face of it, there is no reason to believe that it will come down much, if at all, in the current financial year.
So, if we assume that our wage bill is still around 07/08 levels, how does this compare with our Championship rivals? Well, this piece from a West Brom website shows that the second favourites for this seasons Coca Cola Championship will have a wage bill that has been set at 07/08 Cardiff levels.
Therefore, in these days when the impression is given that success on the field is directly dependent on how big your wage bill is, it would appear that Dave Jones has not been operating at the financial disadvantage that many assume him to be. In fact, I would suggest that City are far nearer to the top than the bottom of any list of Championship payers (I discovered in my research that Doncaster's wage bill last season was just £4 million) – if that is correct, then that seventh place finish starts to look less impressive, especially when you consider that, in all likelihood, at least two clubs with lower wage bills than ours (Burnley and Preston) finished above us.
Dave Jones' critics would also point to what they would see as a habit his teams have of blowing up in the closing weeks of the season. Although I am not so sure that this has always applied during his managerial career, it has to be said that it has happened in three of his four seasons with us. So did Dave Jones' bottle go in the last few matches of City's season? Many would say that it did, but I don't see any evidence of it myself. Instead of that, I wonder if the players get trained too hard in pre season and they simply run out of gas in the closing weeks of the campaign? The obvious rebuttal to that question would be to point out that Burnley didn't blow up with four games to go like we did despite playing more matches than us with a smaller squad. However, it may be worth recalling that Burnley's first two games resulted in a 4-1 defeat at Sheffield Wednesday and a 3-0 home loss to Ipswich – could it be therefore that Owen Coyle's plan was not to train his players so hard in pre season but have them build to a peak in the New Year?
Although Dave Jones appears to embrace the latest ideas in terms of diet and injury avoidance, I sometimes think that there is a tendency towards "well it worked at Stockport fifteen years ago for me, so it will work now" in his attitude – could that be happening with our approach to pre season training?
It has to be said as well that Dave Jones' public persona does him few favours. Now, I am not one of those that subscribe to the ridiculous view that he should wave his arms around more when he is stood on the touchline just to give the impression that he is committed to the cause and I always say that what he went through in that child abuse saga means that people should cut him some slack when it comes to how he behaves in public, but that can only go so far.
If Dave Jones thinks that dealing with the media is something which rates pretty low in his list of priorities then I have some sympathy with that viewpoint, but, does he really have to make his obvious contempt for certain reporters so clear in his press conferences? In the same way, surely not speaking to anyone outside the club, apart from a few supporters at an end of season do, for seven weeks after our defeat at Sheffield Wednesday was a mistake? Okay he had a book coming out and he was not happy with some of the reporting of our capitulation, but, it seems to me that all he did was create resentments that will come to the surface if we make a poor start to the new campaign.
Even an average start to our season will not be enough for some of our manager's harshest critics. The wounds run deep after the way we threw away a play off place and I believe that even the attitude of a significant number of City fans who would not put themselves in the "Jones out" brigade has changed towards all of those involved in the playing side at Cardiff City. Patience has always been in pretty short supply at Cardiff, but the atmosphere at games over the past few seasons may well seem like a vicarage tea party compared to what will happen if we lose a few games early on and, if we do that, then I can't see our manager getting too much support or sympathy from a local press corps that he ignored completely for much of the summer.
In finishing though I have to say that one of the reasons I have argued that Dave Jones should be given more time is that he proved so many of us wrong when we were calling for his head halfway through the 07/08 season. Our manager knows this league very well and, apart from those few months in 07/08, we have never had to worry about relegation in all the time he has been with us, but, despite my guarded support for him at the moment, I can't avoid this nagging doubt that, unless you are a Ferguson, Gradi or Wenger, managers tend to have a natural shelf life of around four years at any club. Dave Jones is going into his fifth season as City manager and he needs to silence those doubters pretty quickly to guarantee he will lead us into a sixth season in charge at Cardiff.
*Originally published on 7 August 2009.