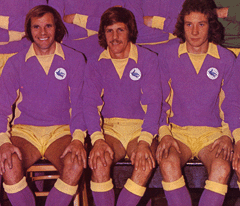 Cardiff City had only just dropped out of the old First Division when I first started supporting them in the 60s and with television coverage of the game nowhere near as extensive at that time as it is now, many of my school mates also made them the first love of their football supporting lives. Even back then though there were those in my age group who didn't even try to hide their scorn for someone who chose to support their local team as opposed to one of the national powers in the game and so it was that I got used to hearing the "why don't you support a proper football team?" jibe at an early age.
As the clubs fortunes declined in the 70s and many of my City supporting friends stopped going to matches for a variety of reasons, I was still there at Ninian Park week in, week out but the number of people who chose to look elsewhere for the team they would support had now grown substantially and the tone they used when talking to this City fan had become more contemptuous.
Through the 80s and 90s as City shuttled between the Third and Fourth tiers of the domestic game, the tone of the "plastics" had changed from contempt to pity as they struggled to work out why someone they considered to be a fairly intelligent person had pledged their footballing allegiance to such a joke of a club – they didn't get it though, we were shit and I knew we were shit, but City were my club and I told them they would always be my club.
Recent years have seen big changes at Cardiff City and over the last few years there has been a degree of respect shown amongst the piss taking and ridicule that I get from supporters of Premiership clubs – they now see Cardiff City as a club set to make the final step up to the top flight and many of them appear to be genuinely pleased at this.
No, Cardiff City have always been my club and although I have always had sides in the top flight that I have enjoyed watching for the good quality football they played (e.g. West Ham, Ipswich, Forest, Liverpool and currently Arsenal), I never for one moment considered switching my allegiance to anyone else – why is it then that in recent months I have found myself sometimes wishing that I had decided to support another team?
Actually, on second thoughts, I have had a second team all of my life and I watched them today. For the first time in more than twenty years I went to Newport to watch County play and as I watched them struggle to break down Dorchester's defence in a goalless first half, I kept on receiving news of the City goals flying in at London Road. At 4-0 up after forty five minutes I should have spent the half time interval at Spytty Park believing the points were in the bag for City, but instead I kept on thinking of a televised game from our division about ten years ago when Port Vale entertained QPR – one of the sides (I think it was Port Vale) were 4-0 up at half time, but the match finished 4-4 and I couldn't get the thought that it could happen again this afternoon out of my mind.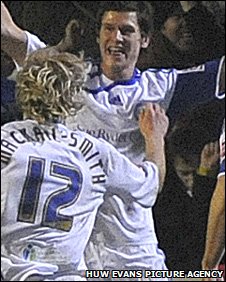 That is what the current team of chinless wonders have done to me. After their pathetic capitulation in the last four matches of last season, I have little or no faith in their ability to cope when they come under pressure and, lo and behold, today they proved again that they do not have the character or resolve required to succeed at this level. I have seen far less talented Cardiff City teams than this one, but I'm not sure if I have ever seen a bigger bunch of wimps representing the club than this lot – can long term supporters of the club come up with two worse examples of capitulation from a Cardiff City team than what we saw last spring and again this afternoon because I can't?
The team we have at the moment has many talented individuals in it, but last spring showed that Cardiff do not like it up them and if you can keep that ability in check whilst standing up to them physically then it is Cardiff who nearly always crack – I used a cricketing term earlier in the season when I called us "flat track bullies" and to use another sporting analogy, we are like one of those heavyweight boxers who possess a knock out punch but also a glass jaw.
During the summer I made the contempt I felt for the team pretty clear and it's true to say that I held them much more responsible for our pathetic finish than I did Dave Jones, but today's events have me wondering whether I was right to do that. Yes, our players lack bottle and spirit, but, Joe Ledley apart, they were all given their first team debut by Dave Jones and the vast majority of them were signed by him so he has to accept his share of responsibility for a situation which is largely of his own making. To hear our manager once again pin the blame firmly on the players for today's feeble surrender was as predictable as it was wrong. Dave Jones talked about lessons being learned after last spring, but it seems to me that nothing has changed and, in fact, they have probably got worse – that said, I suppose we should be grateful that at least we managed to end our losing run against sides in the relegation places this afternoon!
After we lost at Barnsley, I wrote the following on here;
"When Sam Hammam was in charge supporters often used to say "keep the faith", well I'll always keep the faith with Cardiff City but I am afraid that I find it very hard to feel the same affection towards the current manager and group of players as I did to some of their, less talented, predecessors."
It goes without saying after today that my feelings towards manager and team have not changed, but as far as "keeping the faith" goes, that is becoming harder. This lot do not deserve my support – we have, allegedly, the highest paid manager in the division and our grossly overpaid Chairman has told us that our wage bill is amongst the highest in the league, isn't it fair to ask what they have been doing in the past seven months to justify all of that expense?
If all of what I have written sounds a bit personal and selfish, then let's try and put it into some sort of perspective.
1. I speak as someone who largely stopped going to away matches around twenty years ago for a variety of reasons, but there were two thousand there at London Road today who deserve far, far better than they got.
2. There are hundreds of City fans who, unlike me, were willing to pay up towards a scheme to fund the Academy as the club got the begging bowl out for the sort of money that our Chairman earns in a month.
3. I have already paid for my season ticket for next season, but I only have to find the money for one ticket, there are plenty who have made a similar commitment on behalf of their families.
If Dave Jones and the players don't deserve my support then the same applies with bells on as far as those people listed above, who have made far bigger sacrifices than me for their club recently, are concerned – the players, management and senior staff of Cardiff City should feel ashamed tonight, but, somehow I get the impression that they won't be feeling half as bad as those who they let down so badly this afternoon are.
by The other Bob Wilson with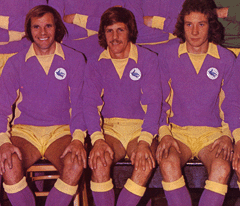 We decided to treat ourselves to a seat in the Grandstand for the Leeds FA Cup tie in 2002 and as I climbed the stairs to the exit at the end of the game, I looked at those City "fans" rushing across the pitch towards the Grange End (not the ones who were celebrating a famous victory around the centre circle – they weren't doing anything wrong) and said "I see the idiots are going to ruin our day again then".
I claim no credit or kudos for being proved right over the following week, but, in saying that, the media reaction to what had happened off the field as opposed to on it left me shocked and disappointed – yes, some of the supporters of the club had, predictably, misbehaved on the big day, but the media reaction was, in my view, out of all proportion with what had happened. I had expected the off field antics to be the subject of indignant media reporting for a day or, possibly, two with the newspaper stuff soon becoming that weeks chip shop wrapping but I was wrong – the moralising  and criticism went on for a week and more.
Without wishing to sound too patronising about it, the way the red tops sense a story and then milk it for all it is worth meant that I suppose that there was always the possibility that the tabloids would have a field day, but the so called "quality" end of the market also got themselves heavily involved. In particular I remember this piece in the Guardian which, although making a fair point about the bad behavior not being limited to just supporters, contained some dreadful and false accusations about the meaning of the Ayatollah gesture. At least the hack concerned had the good grace to acknowledge his mistake but the nationals would not let the story go and so it was that when City played their first match after the Leeds game there were a gathering of journalists from the broadsheet media making, possibly, their first ever visit to Ninian Park – given what had happened the previous Sunday, their priority was hardly what happened out on the pitch!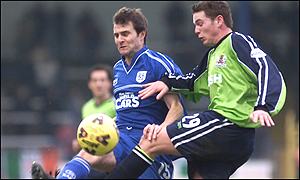 That first game post Leeds was against Peterborough United and I'm afraid that the hacks saw little to get themselves worked up about in terms of crowd behavior and even less as far as City's performance was concerned! Peterborough came to Ninian Park  just above the relegation zone owners of a poor away record which had seen them lose eight of the thirteen matches played on opponent's grounds. As for City, they were just in the top ten with a home record which had similarities with this season as too few matches were being won and it was a useful away record which was keeping them within just two points of a Play Off place.
Therefore, under ordinary circumstances, I would guess the game would be seen as not quite a home banker but one which City should win. The thing is though that what had happened six days earlier meant that these were hardly ordinary circumstances. For a start, sides which pull off FA Cup giant killing acts quite often suffer a reaction to their heroics when they next play and, to add to that, the club had been a major story for nearly a week with virtually none of that attention being focussed on the group of players who had played so fantastically well against Leeds.
Because of what happened off the pitch against Leeds, those who gained one of the club's best ever results have tended not to receive the credit they deserved for beating the team which led the Premiership when the game was played. If the City team felt resentful about about this lack of recognition then I for one wouldn't blame them and their cause wasn't helped when the local sporting public showed their traditional indifference to the "bread and butter" league stuff as only 11,301 bothered to turn up to watch the conquerors of Leeds perform.
Whilst I suppose that some would have been put off by the crowd misbehavior six days earlier, that was still a very poor turn out – nearly half of those who had seen us beat Leeds now found something better to do with their Saturday afternoon and the gate was even three thousand down on the 14,000 plus gates for the previous two home league matches.

The feeling of anti climax was palpable on the terraces beforehand and so I can only guess that the players felt the same way – certainly their performance that afternoon strongly suggested this. For a while, Peterborough appeared intimidated by what they had been reading and hearing during the week and if City could have capitalised on the visitor's early nerves, then the outcome would probably have been different. The passion and fire which did for Leeds was missing this time though and the match became a low key affair which had supporters deciding that reading ""tough times never last, tough people do" a pamphlet they had been given as they entered the ground which set out, at great length, Sam Hammam's response to the events of the past week.
On the field, City were edging the game in terms of possession and chances but had to make a change when Spencer Prior limped off to be replaced by Rhys Weston and perhaps they were still reorganising themselves defensively when Leon McKenzie (who made a habit of scoring against City in those days) reached a cross before a slow reacting Neil Alexander to nod the visitors into the lead.
Things went from bad to worse early in the second half when hesitancy between Weston and Scott Young enabled the on loan Spurs striker Neale Fenn to run through and score easily. Against Leeds Leo Fortune-West had turned the game when he came off the bench and Alan Cork introduced him hoping for something similar – instead though we saw the other side of Leo as a clumsy aerial challenge left a Peterborough defender in a heap and he was lucky that referee Warren only deemed his offence worthy of a yellow card.
Given the amount of money spent in assembling the team, expectations were very high at this time amongst supporters and this often revealed itself in a lack of patience which saw them turn against the players pretty quickly. Therefore, you might have thought that the final whistle would have been greeted by a barrage of boos and abuse for what, it has to be said, was one of the worst City performances of that season – however, with this being the same set of players that had done everyone proud in their previous game, they left the pitch to virtual silence as the crowd shuffled miserably out of the ground.
Beating Leeds was probably Alan Cork's best result in his managerial career and I am sure he would have thought he had greatly increased his job security that evening. However, with City bowing out of the Cup in the next round at Tranmere and the inconsistent league results continuing, a manager who was never popular with large sectors of the club's support was soon under pressure again – so much so that when Wigan scored four unanswered goals from corners less than six weeks later to leave City in eleventh position, Sam Hammam reacted by sacking Cork and replacing him with the recently installed Director of Football Lennie Lawrence.
12 January 2002
Cardiff City 0 Peterborough United 2 (McKenzie, Fenn)
City Alexander; Gabbidon, Prior (Weston), Young, Legg; Boland (Low), Kavanagh, Bonner, Brayson; Gordon (Fortune-West), Earnshaw Subs (not used) Maxwell, Bowen
Peterborough Tyler; Joseph, Rea (Cullen), Edwards, Williams; Farrell (Hooper), Oldfield, Bullard, Toner; McKenzie (Clarke) 1, Fenn 1 Subs (not used) Forinton, Connor
HT 0-1
Att. 11,301
by The other Bob Wilson with