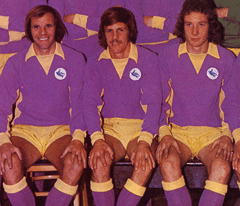 Perhaps I am mad, but I am going to compare the present Cardiff City team with a former England test cricketer who was born in Zimbabwe here! Please bear with me while I try to explain what I mean (and to all of the non cricket fans out there, I assure you that you won't have to read endless paragraphs about that, fantastic, sport here!).
Graham Hick was a batsman who never fulfilled the massive potential he showed when he first started playing for Worcestershire about twenty five years ago because he couldn't handle the step up in class that came with test cricket. At county level Hick had a fantastic record and he broke records galore, but when asked additional questions about his technique and temperament by test bowlers, he struggled and in time, Hick became known as a "flat track bully" which meant that in ideal conditions (i.e. batting on a flat cricket pitch and against modest bowling) there was no one better, but if the pitch was doing a bit and the bowling was of a higher quality, then he wasn't half the player he could be.
After watching last night's 6-1 demolition of a hapless Derby County team, I found myself thinking of Graham Hick because I believe that our record so far shows that, in certain circumstances, there is no one better than us in this division, but, when it comes to the tougher tests, there still have to be doubts about whether this City team has what it takes to clinch the top six spot that we are told we should expect.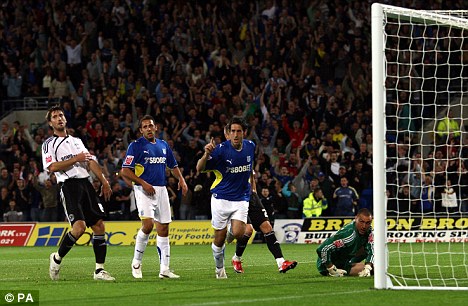 We are currently sitting in fifth position because our goal difference is so much more better than the other four teams that have the same number of points as us and this is despite the fact that three of our four defeats have been by two goal margins. The fact that we have an average home record at the moment of three wins and two defeats is not reflected in our goals for and against record which shows that we have scored thirteen and conceded four. This, along with the 3-1 win at Plymouth, shows that when we do get on top in matches, there are few, if any, teams in the Championship as capable as us of taking maximum advantage.
On the other hand though, we are now the only team in the Championship who has yet to pick up a point after falling behind in a game and, so far at least, we have been the ones that back down when our opponents have stood up to the "flat track bully". Therefore, questions that were raised about the mentality of the City team at the end of last season apply equally to this season so far – you can't help thinking that too many of our players are too fragile mentally and do not react well to being put under pressure.
Automatic promotion, or even a top six finish, is not earned by showing you can win 6-1 or 4-0 when everything is in your favour, it comes about by fighting and scrapping for points when you aren't playing well or are being put under pressure away from home. So far this season, we have only done that twice (at Blackpool and at Reading) and there will have to be more evidence of this over the next five or six games before I will start to believe that last night represented a real turning point in our season.
That fragility showed last night in the lack of professionalism that saw us start the second half off with ten men (players could almost watch an episode of Eastenders in the modern, ridiculously stretched out, half time break, so what on earth was it that kept Jay Bothroyd off the pitch for a further minute?), the sloppy corner we conceded and then our failure to deal with a straightforward cross knocked in from a deep area. Until we got the third goal, things were looking pretty dodgy for a while and it all came about because we started off the second half in a manner which a Sunday morning parks team would have been disappointed with.
Anyway, that's enough negative stuff – a 6-1 win should be a time to accentuate the positive and last night there was plenty to be positive about. For example, the marvellous cross from Peter Whittingham for our second goal, Chris Burke's lovely flick on for our third goal and the way Burke cut in to beat his man before superbly putting away our fifth goal but the biggest positives for me were the performances of Michael Chopra and Steve McPhail.
Before I talk about them though, I'd like to have a brief look at what happened last night from a Derby viewpoint. Nigel Clough was right to claim that his team paid for being so seriously disrupted, especially at centre back, by injuries. However, this made the decision that the visitors would play with a high back line and rely on an offside trap (a policy which needs much practice beforehand by the defenders as individuals and as a unit) when they had so many players out all the more strange.
Derby's approach might have been understandable if, for example, they were up against a couple of static, target men type strikers, but given the presence of Chopra and McPhail, especially, in the opposition it was asking for trouble.
Our opponents may have set themselves up in a way designed to bring out the best in them, but Chopra and McPhail still had to deliver and didn't they just! In Chopra's case he gave a master class in finishing and playing on the shoulder of the last defender with his hat trick goal being my favourite, but, incredible as it may seem when we are talking about someone who has scored four in a match, I don't think he was our man of the match on the night.
For me that accolade goes to Steve McPhail. On the way to the game I listened to Jason Perry describing McPhail as a "brave" footballer because, no matter how the team is doing he always "shows" for defenders looking to pass the ball rather than lump it upfield and he also tries passes that are ambitious but carry a risk of  losing possession thereby drawing groans from the crowd. I agreed with Perry regarding the first bit of that analysis but not with the second because for about fifteen months, McPhail has struck me as having become a "backwards and sideways" passer who has started to look for the safe option.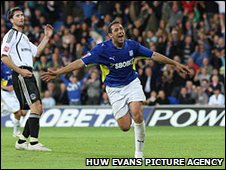 However, last night, given the chance to hit Chopra and others with quick and accurate passes over a variety of distances by the opposition's tactics, McPhail cut Derby to ribbons. He also showed an ability to win the ball which hasn't always been present and was instrumental in ensuring that the team didn't start the match as sloppily as they have been doing recently.
Dave Jones copped a lot of flak for recently rating Steve McPhail amongst the best midfielder's in the Championship and, any City fan who was seen much of his play over the past fifteen months could only assume that this was designed to boost the player's confidence. However, are there many midfielders in the Championship who could have done a better job in unpicking the Derby defence with the opportunities he was presented with last night?
McPhail was presented with conditions which were all in his favour against Derby and exploited them to the full – the challenge for him, Michael Chopra and the rest of their team mates, that Graham Hick failed to meet, is to make a better job than they have done of handling situations where the odds are not so much in their favour.
by The other Bob Wilson with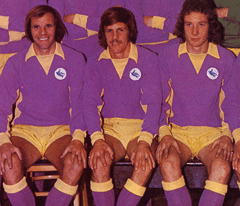 Derby County were Football League Champions in 1972 and 1975, so their relegation from the top flight in 1980 must have been a very bitter pill for their supporters to swallow at that time. However, their decline did not end there because four years later they came to Ninian Park as a club (which still had star names such as Kenny Burns, Dave Watson, Archie Gemmill and John Robertson in it's squad) on the brink of dropping into the third tier of the league system for only the second time in their history. Derby had tried to cling on to the good old days under Brian Clough, by appointing his former assistant Peter Taylor and then former captain Roy McFarland as managers but neither of them were able to stop the downward spiral and it needed two seasons in the old Third Division before the club were able to start moving upwards again.
The fact that Cardiff City were not accompanying the Rams back into the Third Division they had left only twelve months earlier tells of what I would call a minor miracle worked by Len Ashurst. The manager had seen the forward line that had fired us to promotion absolutely decimated as the influential Dave Bennett left to join Coventry City in the First Division for a tribunal decided fee of £120,000, Bob Hatton decided to bring his long career to a close at the age of 36 and top scorer Jeff Hemmerman pick up the injury in the final game of the 82/83 campaign at Bristol Rovers which was eventually to end his career (he did make eleven appearances in 83/84, but, after failing to find the net in any of them while looking like a shadow of the player he was, he retired at the end of the season to become a physiotherapist).
With gates dipping as low as 3,870 during the season and chairman Bob Grogan (who had been virtually bankrolling the club) standing down through ill health (he was to pass away shortly after), it was hardly surprising that Mr Ashurst was given very little of the Bennett fee to spend on replacements for the departed forwards.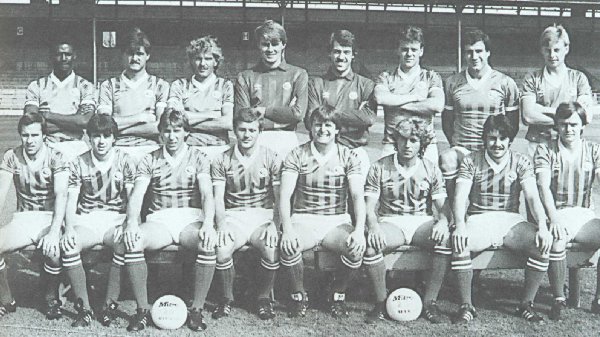 Here's a question for you, what do Andy Crawford, Chris Rodon, Wayne Matthews, Phil Walker, Chris Townsend, Gary Bennett, Ian Baird, Paul Evans (no, not me – things were desperate but not that desperate!), Trevor Lee,  Karl Elsey, Jeff Hemmerman and Martin Goldsmith all have in common? Answer, they all played up front for City in league matches in 83/84 with a degree of success ranging from "adequate" (e.g. Baird and Lee) to "complete waste of space" (e.g. Rodon and Walker)!
Mention of Phil Walker brings to mind the unique swap deal between City and Newport County which enabled Len Ashurst to increase his goalscoring options, albeit at the expense of two more stalwarts from the promotion campaign, as John Lewis, Linden Jones and squad player Tarki Micallef moved to Somerton Park with Karl Elsey and Welsh International Nigel Vaughan making the journey in the opposite direction with not a penny changing hands between the two clubs!
Walker, Elsey and Vaughan all made their debuts in a dismal 3-0 home defeat by Barnsley on 1 October. Walker featured once more before disappearing never to be seen again and Elsey proved to be no more than a useful member of the squad, but Vaughan's goals from midfield (he finished second top scorer with eight) were a very welcome addition from a player who, in the short term at least, proved to be a very good signing.
In saying that mind, there is every chance that we might have been the team being relegated instead of Derby if Len Ashurst had not brought in the little known winger cum striker Gordon Owen who had played under City's manager when he was in charge at Sheffield Wednesday. Ashurst moved quickly to sign Owen when he was freed by Wednesday at the end of the 82/83 season and, in my opinion, he turned out to be one of our best ever free transfer signings as his fourteen goals, the majority of them being down to either his blistering pace or fierce long range shooting. ensured that relegation was avoided with relatively few alarms when compared to previous seasons.
Gordon Owen hat trick for Barnsley
Owen was to make the difference in the game with Derby which ensured that City were mathematically safe from the drop with four matches still to play. It's funny how I have virtually no recollection of some goals that City scored in the old games I look back on whereas others I can still recall as clear as a day. Owen's matchwinner definitely falls into the latter category as his second half shot from just outside the penalty area got a slight deflection which sent it over keeper Steve Cherry's head and into the net at the Canton Stand end to seal the points in a game that saw City reduced to ten men following Karl Elsey's sending off.
By this time, Len Ashurst's first spell as City manager had come to an end – bigger clubs were, increasingly, noticing how Ashurst had managed to get Cardiff promoted and then established in the Second Division on a shoestring budget and, so when First Division Sunderland (for whom he had played 458 times) came calling for him in March, it was obvious that City couldn't and wouldn't hold on to their manager.
In the short term, Ashurst was replaced by assistant manager Jimmy Goodfellow and captain Jimmy Mullen in combination and they oversaw the final weeks of the campaign before Goodfellow was formally appointed as manager in the summer of 1984.
The popular Goodfellow never really had a chance though as, once again, the best players at the club all left during the close season – this time highly rated young keeper Andy Dibble signed for Luton for £125,000, pacy centre half Gary Bennett
Gary Bennett gets acquainted with David Speedie
joined Ashurst at Sunderland (he was to play 382 times for them) for a tribunal fee of £75,000, while Gordon Owen's stay at Cardiff ended with a move to his home town club fee for another, very low, tribunal set fee of £25,000. For the second successive summer, a Cardiff City manager was given none of the incoming transfer fees received to recruit replacements with and so, with six of the first seven league matches of the 1984/85 season being lost, Goodfellow was relieved of his job and the nightmare reign of Alan Durban commenced!
23 April 1984
City 1 Derby 0
City Dibble; Elsey, Dwyer, Bennett, Smith; Owen (1), Tong, Vaughan, Gibbins, Lee, Hemmerman (Mullen)
Derby Cherry; Blades (Pratley), Watson, Powell, Buckley; Devine, Gemmill, Harbey, Robertson; Davison, Garner
HT 0-0
Att. 5,056
by The other Bob Wilson with