As supporters looked around for someone to blame after the great capitulation that was the last four matches of the 2008/09 season, Dave Jones and his players were firmly in the line of fire, but Peter Ridsdale and the group of businessmen who had taken over from Sam Hammam in January 2007 escaped scot free. After all, back in January, they had provided the funds to sign Chris Burke and bring in Micheal Chopra and Quincy on loan with Chopra's transfer set to become a permanent one on 1 July – Ridsdale and co had done their bit, it was the players and those in charge of on field matters that had cocked up.
When Chopra's signing in the summer was backed up by further new arrivals which, arguably, took the club's close season spending above the amount they received from Roger Johnson's sale to Birmingham, the local media were quick to label City as the Championship's big spenders. With the 2009/10 campaign starting amid stories (which Mr Ridsdale was more than happy to put his name to) of significant new investment from Malaysia and the team playing some scintillating football in their shiny new stadium, the stock of our Chairman was as high as at any time since those heady days when Leeds United were "living the dream".
It's not completely with the benefit of hindsight though that I say that the clues regarding the financial hardship to come were there to be spotted if you looked hard enough – the season also started with a messy row with 08/09 top scorer Ross McCormack and while the player and his agent were certainly not blameless in the whole affair, you got the impression that the club weren't exactly busting a gut to get him to stay. As the weeks went by and summer turned into autumn, those who had always felt that the club were looking to offload two not just the one big name player in the summer of 2009 were proved right – while the hamstring injury that McCormack suffered at Blackpool that ruled him out for weeks and scuppered a widely reported move to Hull was down to bad luck, the impasse in the contract negotiations with Joe Ledley was not.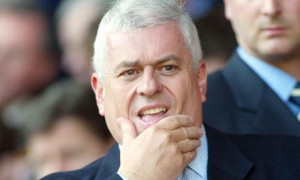 A year earlier Stoke had bid £6 million for Ledley and Peter Ridsdale increased his popularity with supporters at that time by turning it down. Things were different now though and it later emerged that the plan had always been to sell one of Ledley or McCormack last summer, but with any potential suitors for Ledley seemingly happy to wait for his contract to run out in June 2010, the decision not to sell to Stoke and not to advance the contract negotiations with the player's representative in the intervening period began to be seen in a different light.
As rumours of unpaid bills and staff not being paid on time continued through September and October, there were also the first rumblings of problems regarding the financing of the new stadium with contractors being owed money for the "fitting out" of the Cardiff City Stadium (it later emerged that the figures involved ran into seven figures with as much as £7 million being claimed to be the amount owed) – so, all the while, we had, in time honoured Ridsdale fashion, been spending money that we did not have on improving the team and paying wages.
Never mind though, there were always the Malaysians to bail us out and, although I don't intend this to be a rehashing of endless Ridsdale quotes, I think there are three which should be mentioned because I believe they go right to the heart of why there will be very few who will be unhappy to see him leaving the club. Firstly, in the days when he seemed to be flying back and for to Malaysia every week to negotiate with Datuk Chan Tien Ghee  (TG) he said;
"The deal will almost certainly involve sponsorship and we are already talking about shirt sponsor, stadium naming rights and an investment. But I must stress, things don't happen overnight. It's a case of them trusting us and getting to know what we are about."
Fast forward now four months or so and Peter Ridsdale is asked at a meeting with supporters why it was that TG had not been aware of the winding up order (more on this later) brought by HMRC in the High Court which the club had to face for unpaid taxes on 25 November (coincidentally, this was the very day TG was announced to have become a director of the club, although, in the event, formal confirmation of the appointment did not appear on Companies House's records  for months)  and our Chairman replied "he didn't ask". How on earth can that statement be compatible with the one above? It can't be, and at that moment many of us who had bought season tickets for 2010/11, a full ten months before that season started, knew what Mr Ridsdale was "about" – after all, we hadn't asked either had we.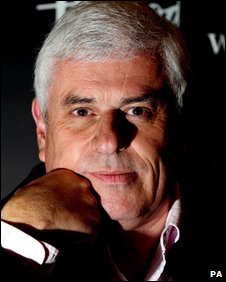 Mention of those season tickets takes me on to the golden ticket fiasco. The fact that Crystal Palace were the other Championship side besides us to be selling season tickets in October says it all about both clubs financial situation's and, when the offer of a price freeze for those supporters who signed up by the turn of the year didn't bring in enough cash, prospective buyers were told that their money would be refunded to them in the event of City getting promoted. However, it was only when it was stated as fact on the club's official site that the money raised from season ticket sales would go towards bringing in new players in the January transfer window that things really began to take off as the target of 10,000 season ticket sales by the end of December was met and then exceeded. With the original winding up order dropped following a renegotiation of the tax debt with HMRC, everything in the garden seemed rosy for a short while until the club defaulted on their first payment under the scheme they had negotiated only a few weeks earlier. A farcical postponement of the home game with promotion rivals Leicester because the club could not afford to pay for the necessary engineering work to get the "state of the art" undersoil heating to work at their new ground was a wake up call to anyone who believed our financial woes were behind us and when the News of the World revealed early in the new year that the club had been issued with another winding up order, there were understandable doubts as to whether the season ticket money would be used for new signings after all.
It was now that Peter Ridsdale waded into action as he insisted to the Echo on 6 January that "we will be bringing in new players this month, I can guarantee that. I would go as far as to say that, come January 31, we will be holding a press conference to parade the players brought in during this month". Well, there was a press conference at the end of January alright, but it was four days earlier than our Chairman thought it would be and consisted of him offering a, qualified, apology to supporters for the lack of new signings as he came under a barrage of hostile questioning from a usually compliant media. For the life of me, I still don't understand why Mr Ridsdale made his "guarantee" comment – perhaps, he thought that, with the deadline for the golden ticket scheme being extended because of the inclement weather, a few more suck….. sorry supporters could be enticed into parting with their money, but, if he wasn't being dishonest when he made those comments, it's hard to see how he wasn't being incredibly naive and/or displaying a degree of ineptitude which suggested he was out of his depth.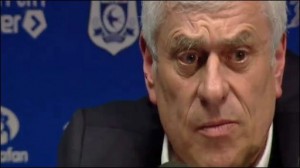 My earlier comments notwithstanding, I would say that this press conference was the single moment when Peter Ridsdale lost the support of significant numbers of Cardiff City fans – granted he was placed in a very awkward position, but the man who had the ability to get audiences eating out of his hands at times, this time looked a harassed and unconvincing figure who appeared to recognise the hopelessness of his position when he tried to draw the conference to an end after what must have been a painful twenty minutes or so for him. After that, the club struggled on with three more High Court hearings which were adjourned each time without the tax bill (estimated to be £1.9 million) being paid and other creditors emerged from the woodwork threatening to use the courts to get what they were owed. Embarrassingly, the FAW were still owed £62,000 some three months after Cardiff City Stadium had hosted it's first international fixture (they were paid the money they were due from the Liberty Stadium for a game played at Swansea in February within a fortnight) and many local small businesses suffered because of the club's inability to pay their creditors – a team like Notts County, rightly, attracted much criticism for getting a promotion on the back of spending money they didn't have and. frankly, I think we would have deserved the same if we had won on Saturday.
However, you got the feeling that the dramas and crisis' of February, March and April were played out without significant contributions from Peter Ridsdale who had become the focus of protest marches and sometimes vicious criticism relating to the financial mess we found ourselves in. Some messageboard critics seemed eager to blame our Chairman for everything that was wrong at the club and it needed to be remembered that there were plenty of others whose contributions could be questioned who were quite happy to see Mr Ridsdale cast as the whipping boy. The thing is though, that when negotiations with the Malaysians resumed after a break of a couple of months, it was Steve Borley who was flying out to the far east to continue talks with TG and billionaire Vincent Tan, not Peter Ridsdale – all of which tended to add authority to those who claimed that our Chairman had been marginalised by the powers that be at the club for the way he had handled the earlier negotiations with the potential investors.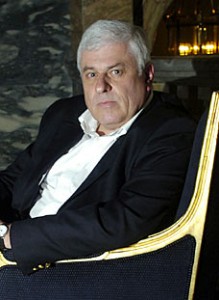 Peter Ridsdale often said that his job was to get the new ground up and running and to secure the club's future through obtaining new investment to deal with the crippling debts that were around long before he arrived at Cardiff City and, with the team having played before a sell out crowd to bring down the season at their new home and the investment from Malaysia confirmed at this morning's EGM, it can be argued that he has delivered on both counts. Indeed, he has been talking in glowing terms about the legacy he will be leaving in recent days and yet I keep getting this feeling that if the club have really muddled through the financial crisis which engulfed it for most of the season, it is in spite of rather than because of Peter Ridsdale  - his failure to mention the winding up orders the club have faced in his final interviews as City Chairman being typical of the off hand manner in which he has appeared to deal with something which, as Chester fans will tell you, threatened the very existence of our club.
Yes, it is true to say that Peter Ridsdale wasn't solely responsible for what happened to make his final season such a fraught one off the pitch at Cardiff City, but any sympathy I may have for him is dissipated by the fact that he was always so willing to claim sole credit when things were going well – with Mr Ridsdale, it was always "I" and "me" rather than "us" and "we" and I think it is somehow appropriate that two of the four photos used in this piece are of the posed variety which gives the impression of someone who enjoyed the idea of "playing at" being a Chairman. Peter Ridsdale loved all the trappings of his very highly paid job, but gave the impression that the, not so, little details were a bit beneath him and would sort themselves out eventually. His methods, ultimately proved to be unsuccessful at Leeds and at Barnsley and I would argue very strongly that they did at Cardiff as well – I am being generous when I mark him at 3 out of 10 for his work during the 09/10 season.