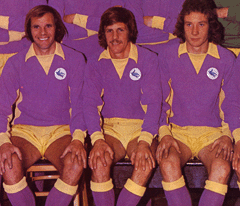 Two matches rather than the usual one this time because they offer proof of why football, more than any other sport I know, is something that you just cannot ever take for granted.
It goes to show how times have changed when you consider that Jimmy Andrews did not make a single signing during the summer of 1976 following our promotion from the old Third Division – just imagine what the messageboards would be like if City went through a whole close season without signing anyone now! Therefore, with Gil Reece, Tony Villars and Brian Clark all having left the club on free transfers and Mike England having retired, the side that started the 76/77 campaign back in the Second Division with a visit to Charlton was very similar to the one that had seen us to promotion apart from the inclusion of young Keith Pontin in at centreback for his debut and the player who turned out to be our match winner as Derek Showers actually found the net not once but twice in a 2-0 win.
Three  days later though a 2-1 home defeat by Bristol Rovers offered an early pointer to the inconsistency that the team showed during the early months of the season as they settled into a lower mid table position which, although too close to the relegation places for comfort, was at least better than what supporters had become used to during the previous four seasons at this level.
With Tony Evans continuing to shine up front, scoring goals was not too much of a problem, but keeping them out was and by the time Nottingham Forest visited Ninian Park on 27 November centre half Paul Went had been recruited from Portsmouth to try and shore things up at the back.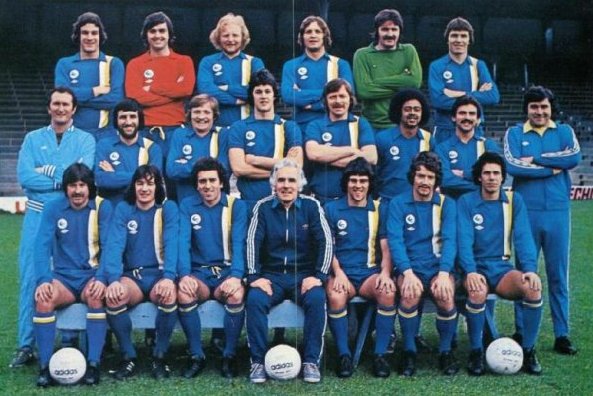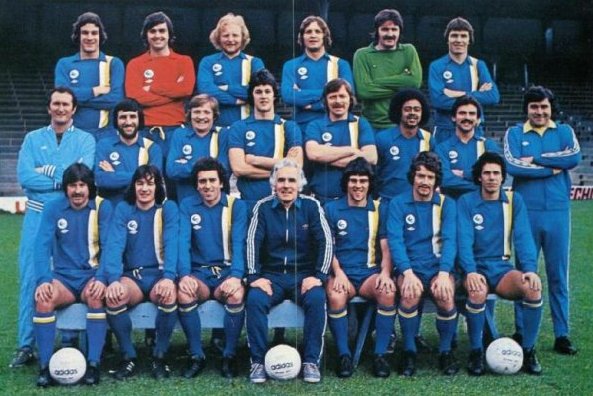 City were in sixteenth position in what was then a twenty two team league going into the game with a Forest team that were in fifth place, but they owed that lofty position almost entirely to a fine home record which had seen them bang in twenty six goals in only eight matches – away from home Forest looked a different proposition with just five goals and one win to show from seven matches played.
There were therefore grounds for believing that City could get something from the game, but, in what might well have been the first glimpse supporters at opposition grounds got of what an outstanding side Forest were to become, City were well and truly blown away with the 3-0 scoreline being an accurate reflection of the big difference in quality between the two teams.
During the 70s supporters got used to Second Division teams coming to Ninian Park and winning, but it is hard to think of too many times when we were outclassed to the extent that we were that afternoon – there were heavier home defeats during the decade, but hardly any in which the City side were so comprehensively outplayed and I went home convinced I had been watching a promotion team in action – they were wearing red in case you are wondering!
That defeat must have set alarm bells ringing for manager Jimmy Andrews who made five changes (including giving a debut to another new signing in Steve Grapes) for the next game which saw the rejigged side draw 0-0 at Burnley. However, the breaking up of the promotion side had already started weeks earlier really with Clive Charles having lost his place and Alan Campbell missing through an injury which would keep him out for much of the campaign. To add to that Adrian Alston had been unable to repeat his Third division form at the higher level and was in and out of the team while the Forest match turned out to be Willie Anderson's last starting appearance in a City shirt – within a month or so, he, Alston and Charles had all left the club to play in the American Sahcka League.
Some of the money received for these three was invested in controversial Reading striker Robin Friday and another forward, Ray Bishop, arrived from non league Cheltenham as City continued to bob along just below half way in the league while at the same time embarking on the FA Cup run which saw them beat Spurs and Wrexham in Ninian Park thrillers before unluckily bowing out to Everton by 2-1 in the Fifth Round.
Unlike the Everton match which was not shown on television because of a strike at the BBC, the matches with Spurs and Wrexham were featured on Match of the Day so the players received the sort of national exposure that was very rare for Second Division players back then. No one benefited from this more than Fairwater boy Peter Sayer whose fine early match winner against Spurs was endlessly replayed at the time. Sayer also found the net in the 3-2 win over Wrexham and this helped him become a much sought after property (he eventually left in a £100, 000 deal with Brighton early in 1978), while a call up into the full Welsh squad soon followed (Sayer made his debut for his country in a tremendous 3-0 win over European Champions Czechoslovakia at Wrexham).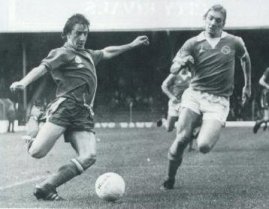 Unfortunately, City's exit from the cup coincided with an awful run of form in the league which saw them gain just one win and two draws in ten matches so that by the time they went down 3-2 at Southampton on Easter Monday they were in the bottom three with seven matches to play. A 4-2 win over Luton in the Robin Friday "V sign" match lifted us back up to nineteenth, but with the next match being the return fixture with the Nottingham Forest side who had stuffed us in November, a return to the relegation places looked inevitable.
Forest had continued to bang in the goals at  home and had scored thirteen times in winning their last five matches at the City ground – a 2-1 defeat in their last match, at eventual runners up Chelsea, had dropped them to fourth in the table  but with a run in which consisted entirely of games against teams from the lower half of the table, promotion was still theirs for the taking.
I am sure I'm not the only City fan who looks at our fixtures as a season comes to an end and tries to figure out how many points we can pick up from each match. Well, no matter how optimistic I tried to be, I could never see us getting anything other than nil points at Forest. However, although I still don't know how we quite managed to do it, we went to the City ground and won 1-0! Whereas we had never looked like scoring in the match at Ninian Park, Peter Sayer's first half goal from a rare breakout gave us something to cling on to and, although it was like the Alamo at times in the second half, luck, great last ditch defending and inspired goalkeeping by Ron Healey got us the points.
That win took us to seventeenth position and should have been the key to us securing our Second division status relatively comfortably. Of course, being Cardiff City, we don't do things that way and so it was, that, while Forest secured their promotion with three wins and a draw from their last four games, we had just a win and three defeats to show from our next from four matches and therefore had to go into another of those last day winner takes all matches where a draw keeps us up and a defeat relegates us as our opponents stay up.
This time around it was Carlisle United who came to Ninian Park needing the win and a goal from a very unlikely source in Alan Campbell calmed nerves by putting us ahead around the twenty minute mark. Within seconds though, Les O'Neill equalised with a thumping shot from miles out and there were to be many very anxious moments  (including an amazing scramble in our goalmouth just before the end which developed into a twenty two man brawl as Carlisle's desperation got the better of them) before we were safe having clung on for the 1-1 draw.
In lots of ways though, the story here is not about us but Forest because a year later they were being crowned First Division Champions (surely the last time a newly promoted team will ever win the First Division/Premiership?) and, not content with that, they then went on to win the European Cup in each of the following two seasons.
When I look at the teams from those two matches thirty odd years ago now, the thing that strikes me most is how many of the Forest squad that went on to dominate Europe played against us in one or both of the games. It really was some achievement for us to win there when you consider that Forest's next home league defeat didn't arrive until November 1979 and as the best in England were being defeated at the City Ground over those  two and a half years it used to be great to listen to Frank Bough, David Coleman or Dickie Davies going through the scores on a Saturday afternoon when Forest were at home because you just knew they were going to say "so Forest are still unbeaten at home since Cardiff City beat them in April 1977″!
27 November 1976
Cardiff City 0 Nottingham Forest 3
City Healey; Dwyer, Went, Larmour, Pethard; Sayer, Livermore, Buchanan, Anderson (Alston); Evans, Showers
Forest Middleton; Anderson, Chapman (1), McGovern, Clark; O'Neill, Bowyer, O'Hare, Robertson, Withe (1), Woodcock (1)
HT 0-2
Att. 12,770
23 April 1977
Nottingham Forest 0 Cardiff City 1
Forest Middleton; Anderson, Chapman, Lloyd, Clark; O'Neill, McGovern, Bowyer, Robertson; Withe (Butlin), Woodcock
City Healey; Attley, Went, Larmour, Pethard; Grapes, Dwyer, Campbell, Giles; Showers (Livermore), Sayer (1)
HT 0-1
Att. 20,646