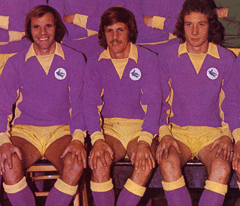 There's not really much to say about yesterday's match is there? A couple of questions concerning it spring to mind, firstly, did you believe Dave Jones when he said that the nine players missing from the team that faced Sheffield Wednesday were all injured and then, once you've answered no to that one, was he right to rest those nine for the more serious stuff to come – my answer to that is yes, but a bad defeat next Sunday would mean you'd get a different answer from me! Apart from observing that Derby's second goal makes it even less likely that Peter Enckelman will be our second choice keeper next season, that's about it really as far as our last game of the regular season goes – if I am being honest, the radio commentary I listened to while watching the pictures from Hillsborough was more of a distraction than anything else.
So, how will our side look in comparison to yesterday's when we make our second trip of the season to the Walkers Stadium? Well, there are always two different answers to such questions as far as I am concerned, the first always relates to the side I would like Dave Jones to pick and the second always applies to the side I think he will pick – having first stated the obvious in saying that David Marshall will be in goal, here's my answers to both of those questions;
Full backs
With Leicester not really having out and out wingers, I'd go for Adam Matthews at right back and Kevin McNaughton on the left – I can't see Dave Jones doing that though. Assuming Mark Kennedy is fit, I think he'll play with McNaughton on the right and the signs in recent weeks are that it would be a straight swap of Tony Capaldi for Kennedy if the latter misses out.
Centrebacks
Steve Howard is suspended for the First Leg and, with Matt Fryatt returning to the team yesterday, this means that the strikers our opponents field are likely to be smaller, quicker players with good movement. Such a situation, surely, makes Darcy Blake the best choice  to start alongside Anthony Gerrard? Truth is I'd have those two as my centrebacks even if Howard was available because they have looked the most convincing of the partnerships we have had in central defence this season. Although there is a part of me that can't help thinking that Dave Jones may go for a Gerrard/Hudson combination (the claims of Gabor Gyepes cannot be ignored entirely either), I think it's more likely we'll see Blake and Gerrard play.
Wide midfield
Got to be Burke on the right and Whittingham on the left for me – as for who will actually play, I am not so sure. I think Peter Whittingham is a certainty, but as for Chris Burke? Recent selections have seen him on the bench or in yesterday's "shadow" team and although I realise that he also missed a few games with injury recently, they will have been around a month ago by the time we face Leicester. Perhaps, Dave Jones has kept Burke out because he wanted to see how Kelvin Etuhu would fare over a series of games, well, if he did, I would say that although Etuhu has shown flashes of speed and ability which would make him a real threat, I don't think he has done it on a consistent enough basis. There is also Ross McCormack to consider as well, but my feeling is that if he is to feature in the starting line up, it will be as a striker. Therefore, weighing all of that up, I would say, with not much confidence mind, that Dave Jones will opt for Burke and Whittingham.
Central midfield
Easy for me this one – McPhail and Ledley. I suppose that, if Dave Jones did go for Hudson/Gypes and Gerrard in the centre of our defence, the question has to be asked whether Blake could feature in the middle of the park, but I don't see our manager breaking up the McPhail/Ledley partnership.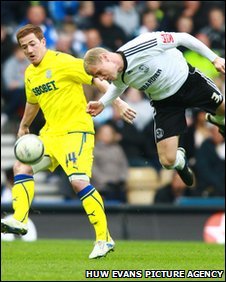 Strikers
Difficult one this, i have been critical of Michael Chopra at times this season and, if Ross McCormack was playing to his potential, then I would have our record signing on the bench, but Chopra showed he was the man for the big occasions against Swansea and so I would have him partnering Jay Bothroyd up front. I think our manager will probably think the same way as well – this time last year the idea of Ross McCormack not featuring in what would be regarded as our strongest line up would be laughable, but his patchy form and poor goalscoring record this time around means that it is likely to happen on Sunday. Kelvin Etuhu has to considered as a possibility as well, but I am guessing that Dave Jones will see him and McCormack as good options to have on the bench who he can turn to in the last half an hour if need be.
As to which side will prevail over the two games, well I think if you asked supporters of both teams, you'd get predictably biased answers, but I thought Steve Claridge made an interesting comment last night when he said that he thought Leicester were a team who would always give 100% even in a meaningless match like yesterday's. I have seen it said that Leicester were the easiest of the possible Play Off contenders we could face, but their attitude, their outstanding record in Play Off Semi Finals and the fact that, with five wins on the trot, they are in better form than us shows that we face a formidable task if we are going to make it to Wembley.
I would say that, even though we have improved in this respect, Leicester may have the edge in teamwork, but, I don't think any side in the Play Offs has as many possible match winners as us – if two of the five or six matchwinners we have in our ranks can turn it on in each of the games we play and our, sometimes iffy, defence, can stay as solid as they have tended to be in the last couple of months or so, we could go all the way.