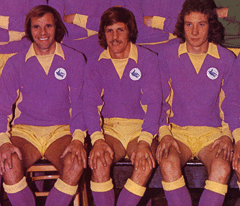 Those familiar with City's history will know of another match against Bristol City during the Second World War which went on for weeks (okay, make that hours!) while both searched for the goal which would win their cup clash. Well, the crowd at this lunchtime's Academy game against Crewe at Treforest had a small taste of what watching that game must have felt like as the first half of the match dragged on and on.
Things weren't going too badly until there was a mysterious delay of about ten minutes while a series of discussions among the match officials took place. Eventually, play was stopped in the Under 16s game on the pitch they use about fifty away as well and when both matches restarted, it looked as if one of the officials (think it was the ref in the Under 18s game) had been forced to leave their game through injury – from a distance, it appeared as if they were a linesman short in the Under 16 game for the rest of the first half.
Anyway, no sooner had play restarted in the Under 18s game, than captain Cameron Coxe went down after being fouled with an injury which required a few minutes treatment and then there was another injury, this time to striker Ibi Sosani's shoulder, which needed fairly lengthy treatment.
The effect of all of these stoppages was that the first half lasted something in the region of seventy minutes and hardly surprisingly this led to a first period that never really got going, even though it did produce a goal completely out of character with so much of what preceded and proceeded it.
City made the brighter start and Sosani had a very decent chance early on when Crewe keeper Hilton dived at his feet only to spill the ball close to the striker – this all happened very quickly and Sosani seemed to think that he had less time than he actually did as he hurried his effort and shot wide.
Apart from that, City were generally having most of the ball and putting on more pressure, but there was little to hint at a goal until right back Isaac Kelly got involved on nineteen minutes. Receiving one of Jarred Welch's crossfield passes some forty yards from goal, Kelly did a Craig Noone as he cut in and carried the ball for about five yards before shaping to shoot with his left foot. I waited for the resultant shot to go anywhere but within, say, thirty yards of the Crewe goal, but, instead, the ball flew high into the net with Hilton not being able to get anywhere near it.
When the half time whistle was eventually blown nearly an hour later, Kelly's wonder strike was becoming a distant memory given the generally scrappy football that followed it. Certainly, there was little that happened to prepare anyone for the burst of three City goals in fourteen minutes that arrived early in the second half.
The first of these came on forty nine minutes when another good crossfield pass created space down the right which Connor Davies, a new name to me, exploited well to lay a goal on a plate for James Waite
Four minutes later, it was Waite again as the Crewe right back lost possession on the halfway line. The problem for the visitors was that he was the last man and so Waite and Mark Harris had a run in on goal between them with no Crewe defender having a hope of catching them – in the event, Waite did not need any help as he confidently side footed past Hilton to make it 3-0.
Harris did not have to wait too long for his goal though, as Sosani put over a cross from the right that the centre forward side footed home with ease at the far post.
There were some more chances on the break for the team, but they weren't taken and it was almost as if their priority became more that they achieve a rare clean sheet than go looking for a bigger margin of victory.
It must have been galling for them therefore to allow a game Crewe team, which kept on going to the end, to get the consolation goal they probably deserved when Reilly stooped to head home a corner via an upright with six minutes left.
The match finished 4-1 as the final whistle blew over two hours after it had started proceedings, there was no doubting that the win was a merited one, but, that one hot period in front of goal apart, the margin of victory probably flattered City somewhat.
Across the way, the Under 16s, who I believe have only lost one game all season, will probably have been disappointed to only draw their match 2-2, especially when you consider that one of the visiting players was shown a straight red card with about twenty minutes to play. This was the first time I've seen someone sent off in a club game at this age level and I just hope that the ref, who I think may have started the afternoon as a linesman before all the reshuffling took place, did not over react.
I was a long way from the incident as I was concentrating on the Under 18s match, but it looked like the Crewe players were annoyed when a decision didn't go their way and they ended up conceding a free kick about thirty yards from their goal. Whether the red card was shown for the foul or some foul and abusive language that was directed at him, I don't know, but, in a way, I hope it was the latter because the idea of a kid of fifteen or sixteen losing his rag and mouthing off some expletives at an official is marginally better than committing a foul deemed to be so bad by the officials to warrant a straight red card to me.
The score was 2-2 when the sending off occurred, but any disappointment about the Under 16s failing to take advantage of their numerical superiority has to be tempered by the knowledge that they had been a couple of goals down at half time.
I only saw Crewe score one goal as an attack broke down about thirty yards from the visitor's goal, but City had committed too many players forward and it became a two on two counter attack which their number ten exploited beautifully as he beat his marker while running something like fifty yards with the ball before slotting past the keeper.
The visitors must have scored their second goal while I was watching the other game, but City's number nine gave the clue that he had not equalised when he nudged home from about six yards because he quickly grabbed the ball from the back of the net to carry it back to the centre spot for the restart.
When the equaliser did arrive about ten minutes later, it reminded me a little of Sol Bamba's goal last night, because the scorer (I was too far away to see what number he was wearing) got his head to the ball from a corner before the keeper and as the ball looped up into the air, it came down in his favour to leave him with a simple finish from no more than a yard out.
*picture courtesy of http://www.cardiffcityfc.co.uk/